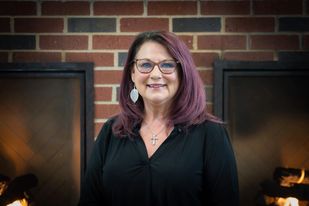 Susan
Ms. Susan, A.K.A. GiGi joined our Office Team in August 2021. She quickly jumped into the additional roles of Human Resource Director and Quality Control Specialist.

Moving from the Northeast to Oklahoma, she brought with her over 50 years of customer service experience along with skills in public relations, human resources, marketing and customer service training.

Susan states that her move from the Northeast to Edmond, OK was one of the scariest and challenging chapters of her life. However, being close to her sister and family including the loves of her life, her Niece Maggie and Great Nephews Mark and Luke along with working at DITR has given her countless blessings and was the driving force behind her move.

Growing up, Susan's family had a Collie named Beauty and a Beagle named Dee-Dee and at a very young age she advised her parents that she wanted a pet cow - that request was dismissed as they lived in a suburban community. She has always had a deep love, compassion and respect for all animals. When she moved into her first apartment she knew she had to have a fur baby in her life; however, the landlord only permitted cats. New to being a feline mom, she rescued her first cat, Shade, who appeared to be part Russian Blue and fell in love. Over the years she has adopted Keia, an orange kitty, a domestic black and tan short haired Sphynx, a gray domestic shorthair, Jazpurr, and Harley a white Persian who have all sadly passed over the Rainbow Bridge. Ellie, her current Ms. Diva made the long move to Oklahoma with her!

As she has told us, DITR has been one of her many blessings. She lives for watching and helping others grow, to realize their goals and watch them blossom!

She loves almost all music genres and loves to dance, but she will always be a hard rock girl at heart. Susan has many motivational quotes she lives by, but this one has been with her always: "It's important to have an end to journey towards, however it is the journey that matters in the end."