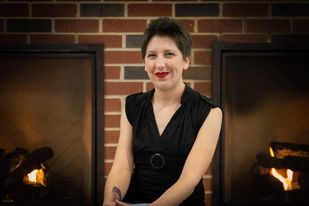 Courtney
Ms. Courtney is our Senior Groomer and acting Field Manager. She has 12 successful years of grooming experience under her belt. Before her grooming career, she was attending college for Veterinary medicine while working 3 jobs struggling to support herself. During this time, she saw an ad in the Sunday paper for Dog Grooming School, and the light bulb went off! It combined her love of animals and the ability to be financially secure.

She has a fun and crazy family of 2 Chihuahuas, a Husky, a Terrier Mix, 2 Domestic Shorthair cats, a horse and at last count - about 30 chickens.

Her favorite dog breed is the Westie because of their little ferocious terrier personalities combined with their little lover qualities... when they want to be. Her favorite cat breed is Tonkinese and considers them her dream cat breed. She has never met one in person but their little voices and colorful personalities are amazing and she hopes to add one to her family in the future.

2022 was a notable year for Courtney. She competed professionally twice, Superzoo and Pet Pro Classic 2022. She was awarded 2nd place and Best First Time Competitor in Class at Superzoo and 2nd place in Yellow Rose of Texas division at Petpro. Courtney also has Certification in Canine Behavior and CPR/First Aid and is now a Certified Feline Mater Groomer. The CFMG is an elite group of cat groomers who were awarded this title due to successfully completing rigorous classes and education. We are bursting at the seams with pride and respect for her accomplishments!

Courtney is not done yet! Her next goal is to reach the open level for competitions and to pursue master certification through the NDGAA.

She has been with the DITR Diamond Groom team for over 5 1/2 years and says "It's truly a family environment. A job will always be a job, but it's a whole different experience to have owners and managers who actually care about their employees personal well being and not just the numbers that are produced."