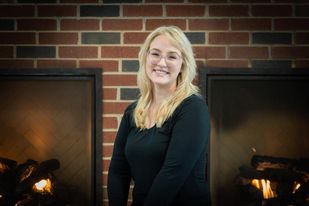 Kat
Ms. Kat began her working career as a cosmetologist and wanted something different. She stumbled upon dog grooming and it was a match made in heaven. She fell in love with the industry! DITR and our clients fell in love with her. She has almost five years of dog grooming experience now.

She takes pride in and loves her fur babies; Henry Doug Watson Ford Allen - A German Shepherd/Basset Hound mix and Murray May Maisel Allen - an adorable smorgasbord of breeds. Both are rescue pups and are absolutely crazy, sassy and perfect!

Her favorite breeds are Basset Hounds, Golden Retrievers and Brussels but loves all dogs. She is driven by her passion to keep learning new things and continuing to grow to be the best she can be for all of the pups.

She loves the ability at DITR to customize each dog's experience by selecting products and techniques to benefit their specific needs. The pup's total experience is always her priority.

Kat has a love of outdoors, artistry, and music from the 60's to current. She enjoys hiking, camping, painting, crafts, playing with her pups and watching scary movies.