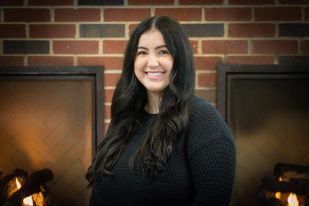 Ashley
Ms. Ashley is our Operations Manager. She left a very successful position in the field of banking to join our Office Team and quickly demonstrated her abilities and compassion for finding solutions and executing them to keep our daily operations running efficiently. We are so thankful she accepted the OM position and is an integral part of our success.

Ashley graduated from UCO with a Bachelor's Degree in Finance and minors in Real Estate and Business Administration. Additionally, she offers over 9 years of customer service and business administration experience.

She and her fiance offer a loving home to their fur baby Monty Moose, a 2 year old Labrador/Pit mix that has never met a stranger! He is the baby of the household and he knows it. Ashley and Trevor continually open their home to foster numerous pups looking for their forever home. They enjoy watching and helping shy and scared pups learn to trust and accept love over time. They take pride in watching these pups in their new homes enjoying their best life!

Her favorite dog breed is the Italian Greyhound and hopes to add one to her fur family in the future. She loves their unique and cat-like personalities!

In her off time she loves true crime podcasts and documentaries and watching Friends on repeat. Her favorite movie is Practical Magic and she listens to country music of the 90's and 2000's. Dixie Chicks and Shania Twain are at the top of her playlist.

She is excited to grow in this industry that combines her administration skills with her passion for animals and is dedicated to learn more and grow as a leader. Ashley feels that DITR is special because every team member truly has a passion and dedication for helping animals.

Her favorite quotes are: "Comfort and growth can never coexist." and "Live to serve and not to be served."