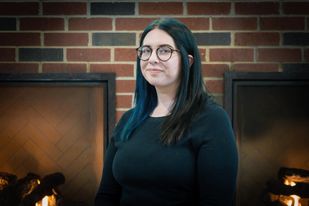 Hayli
Ms Hayli joined our DITR team as an apprentice and has continued to shine and demonstrate her love for dogs. She has benefited from working with and learning from our amazing Diamond Groom Team and has become one of our valued professional groomers. We are so proud of her for all of her accomplishments and talent!

She has two rescue dogs, Charlie and Henry. Pomeranians and Pitbulls are two of her favorite breeds because "they're just so cute!" Her desire to continue growing as a dog groomer is what keeps her motivated and it shows. She feels DITR is a wonderful team of people.

The spookier the better for Hayli! She loves all spooky things, horror movies and anything Halloween. She is simply Spook-tac-u-lar and we lover her.