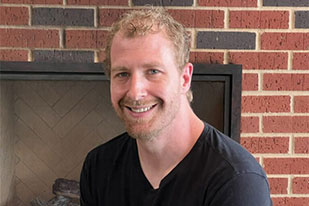 James
Mr. James has been in the grooming industry for over 4 years. Two of those years he took on the demanding role as Salon Leader which he excelled in. He also has a background as a reptile keeper at various Oklahoma zoos. James has a great heart and has volunteered at an animal welfare facility and pet adoption events.

The best part of his grooming day is witnessing the happy and excited faces of parents after seeing their pup when the grooming is complete.

James is quoted as saying his 'amazing wife' keeps him motivated! Their loving family consists of; Briggs, a Bullmastiff that loves peanut butter, Athena, a German Shepherd who is anxious and very sweet, and Spaz, an 18 year old tabby cat who is head of the household!

One of his favorite breeds to groom are Poodles because they are fun, creative, and he loves their coats. But overall his favorite breed are Mastiffs because of their temperament and loyalty.

On days off you will most likely find him hiking, camping, or enjoying other outdoor activities. And when he sits down to unwind he is probably catching the X-Files, Mad Max or listening to Led Zeppelin's Ramble On.

James's favorite quote: "Life is not a problem to be solved, but a reality to be experienced." - Soren Kierkegaard

When asked what makes DITR unique he said because they focus on quality over quantity and are leaders who care about their staff. He hopes to have a long running career with DITR and hopes to groom competitively in the future!