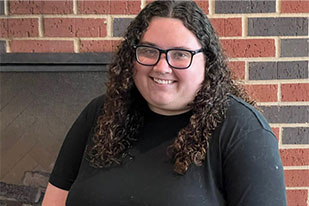 Caitlyn S.
Ms Cait started her career as a kennel technician at a doggie day care and boarding facility. She quickly moved on to adding bathing to her experience which solidified her goal to pursue her grooming training with us! She is progressing successfully with her grooming curriculum and hands-on training to become a certified groomer. With her dedication and talent, the sky's the limit!

Her pride and joy are her 4 furry family members! Jack, her youngest is a fun mix of a Jack-Jack, a fun mix of Dachshund, Shihtzu and Chihuahua, Lucy, her 16 year old Jack Russell and Whippet mix, Harlow, the middle pup is a Labrador mix and then there is her cat, Kip! Cait tells us Kip is the bane of her existence but also her absolute pride & joy! One day she would love to add a Beauceron pup to her family to train for protection.

Cait's family and friends help keep her motivated. Cait's favorite quote: "The two most important days of your life are the day you were born and the day you find out why." - Mark Twain

She also has a passion for marine biology and loves learning all there is to know about the ocean and its animals (especially sharks) and has also considered this as a career path. When she has free time she enjoys painting and watching any crime shows and movies.Her favorite movie however is Legally Blonde.

Joji is her favorite singer and Anything by Joji is her favorite song. She also enjoys Freddie Dredd, Ghostemane and $uicide Boy$.

When asked why she thinks DITR is unique and a great place to work she said, the "family-like environment" she continued with, other employers have promised the same but she has never felt that until she came to work for DITR. Ms Cait has set her sights on becoming the best groomer she can be!