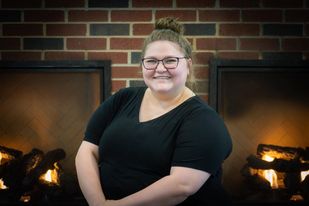 Caitlyn
Ms. Caitlyn joined DITR in 2020 and became an integral part of our Office Team. She now has the added responsibilities as our Inventory Specialist as well as, Vehicle Safety Coordinator.

Prior to coming to DITR, she brought with her over 4 years of office and customer service experience along with a passion for furry friends. She was born in Texas, and started her professional career in Arkansas. Shortly after moving to Oklahoma she began her position with DITR. We are so happy she found her way to OKC!

Caitlyn and her husband Tyler are the proud parents of adorable Anderson, born in January 2022. He is such a sweet baby who knows no stranger and of course is the light of their lives. Their other baby is Zeus - an American Staffordshire, who is a ball of energy and once he gets to know you the kisses keep coming!

Her favorite dog breed is the Saint Bernard. Beethoven was her favorite movie growing up and always wished she would have one once she started her own family. However, now that she is in the grooming industry and realizes how much work and time it entails to keep their coats pristine, she has decided to admire them from afar!

When she has down time, Caitlyn enjoys knitting and watching Gilmore Girls, she confesses it is her guilty pleasure. Her favorite song is "Hold On To Me" by Lauren Daigle and favorite movie, Zootopia.

Caitlyn loves how everyone at DITR comes together and works as a team, but especially loves how we get to love on animals on a daily basis. She continues to assist in keeping the office organized and flowing properly to help maximize our groomers potential for an efficient work day.