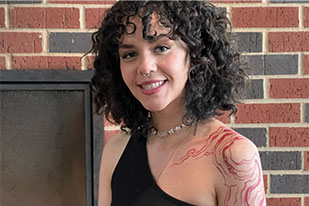 Macy
Ms. Macy fell in love with the grooming industry when she was interning at an animal clinic and had the opportunity to observe a groomer first hand. She was amazed and became hooked watching the transformations of the dog's appearance and how happy it made them!

At this time she does not have any furry family members but hopes to adopt a Bichon Frise and Toy Poodle in the near future! Her goal is to become skilled at creative grooms and color by practicing on her future pups. We are so excited for her to begin this fun journey!

Macy says her clients' smiling faces when they see their pups after the grooming services and the ability to transform the pups is what keeps her motivated. One of her favorite breeds are Schnauzers due to their big personalities, their cute faces, soft brown eyes, and how feisty and loving they are!

Macy's favorite quote: "The best glory in living lies not in never falling, but in rising everytime we fall." - Nelson Mandela

Her favorite movies are the Harry Potter and Lord of The Rings series. She loves the song Jungle by Tash Sultana and creative crafts like crocheting, painting and gardening. Some of her favorite artists include Tame Impala, Hozier,Brand New, Tash Sultana and Weezer to name just a few.

When asked what she thinks makes DITR a unique and great place to work she said she absolutely loves the team and the opportunities they have for their groomers. DITR genuinely cares about their employees and clients and they encourage you to be your best and give you the opportunities to grow. Macy says her goal is to continue to perfect her craft through programs offered by DITR.